Archive for the 'art – others' Category
looking at older posts to see what's still on the web
eastern hemisphere ice cream ad via rising tensions
Top: Eva Hesse, Metronomic Irregularity II, 1966
Painted wood, Sculp-Metal, and cotton-covered wire 121.9 x 609.6 cm; each panel 121.9 cm (materials via)
Bottom: IBM "plugboard" accounting machine, circa 1948, photo via Ken Shirriff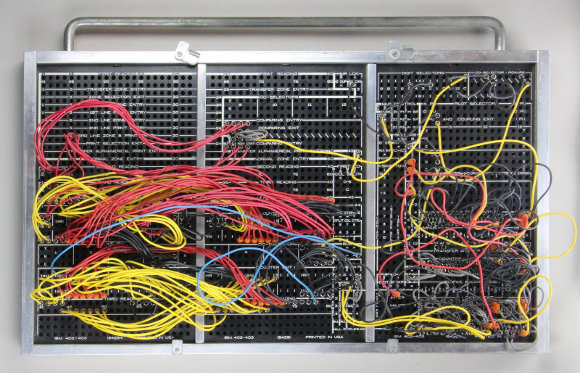 Previous iteration of this pun (Pinterest scraped my sharpened image of the Hesse piece -- which I scraped from "the internet" back in the day -- the difference being I didn't lock the image behind a subscription wall)
Shorter Malcolm Morley:
First came his classic photorealist works from the 1960s, roughly contemporaneous to Chuck Close's and Richard Estes's work and rooted in Pop art. The subject matter isn't "ships" but picture postcards of ships, gridded out and painted square by square. In the late '70s Morley became the expressionist-style painter he is today. One could prefer the earlier work but sympathize with the need to loosen up and not be a lifelong prisoner of a rigid technique.
SS Amsterdam in Front of Rotterdam, 1966
Liquitex on canvas, 62 x 84 in. (date and medium from Jean-Claude Lebensztejn's book on Morley, Itineraries)
jpeg via The Remodern Review
Cristoforo Colombo, 1966
Liquitex on canvas, 45 x 60 in. (date and medium from Jean-Claude Lebensztejn, Itineraries)
jpeg via Hall Collection
Sailing Vessel Floundering in Heavy Seas, 1996
oil on linen, 56 x 72 in. (hat tip JPM)
photo taken with blurry dumbphone
Works on paper by David Scher at Pierogi (formerly Pierogi 2000) gallery
In Vice, NYC critic and curator Robert Nickas writes a mean review of an art exhibit by his former Index magazine colleague, Peter Halley (hat tip bill).
Halley was the publisher and Nickas was the editor of the Interview-wannabe magazine in the '90s; it stopped publishing over ten years ago.
One senses a late ax being ground.
Halley's paintings and installation strategies have been consistent for the last 25 years; one can't really accuse him of a bad faith attempt to repackage himself. (Whether the work has shown any growth or development is a different question.) The review is all about branding, comparing Halley to an overweight Elvis attempting to stage comebacks. There is no need for this!
Another broken .mov file -- thanks, Apple -- that ended up being converted to a GIF. My animation based on screenshots of art by John Parker, from his website; more discussion on my 2001-2007 blog.
Another broken .mov file -- thanks, Apple, you're a hell of a company -- that ended up being converted to a GIF. My animation based on art by John Parker; explanation of image from my 2001-2007 blog.
From a quick skim around the WWW, it appears Apple is to blame for old .mov files not working. Apparently they stopped updating Quicktime and forgot to tell anyone and it became a malware haven. Thanks, Apple, you dudes are truly... the genius bar.
Anyway, this means .mov files that I convert to .mp4 don't automatically loop unless I save the .mp4 with a javascript controller. (The old Quicktime had the option to make .mov files loop.) Too much hassle, so for files such as the above, I converted the .mov to .GIF and specified "looping." This destroys one of the subtle charms of the piece, which was that the Quicktime player struggled with a short (.4 seconds) loop and you got erratic repeat times in the above, causing the vertical blue-grey bands to drift from side to side. The browser plays the GIF fairly uniformly. Anyway, too much info. The post explaining the project above is on my 2001-2007 blog.
Artist Michael Galbreth tells a story of an artwork. When he was an MFA student in the early '80s, he collaborated semi-officially with a computer science teacher to create a drawing visualizing the random number generator in the department's PC. If a million random dots were printed on a plotter would the field of dots be uniform or would some stucture be revealed? How random is random, in other words?
Galbreth and the teacher estimated the printout on the Technology Department's plotter (above) would take several days. After only a few hours, and 28,440 points printed, the plotter broke:
The strain placed on the arm of the plotter was just too much. It over heated, or something, and one of the small cables that drove the stylus snapped. Scott was gracious and forgiving about the whole thing, smiling as he explained what had happened. But I could tell he wasn't happy. Losing a plotter was a real loss. One fewer plotters in the class created a log jam for the other students who needed to make drawings for their assignments. And because the significant devotion of time and energy to this plotter had no relation, relevance, or use to the goals of the Technology Department, it was irritating. There would be no continuation of this experiment.
Galbreth explains his private reaction to the catastophe:
I felt bad and responsible for the broken plotter. But at the same time, I was secretly delighted. I thought that the entire affair was fascinating. My time in the Technology Department using the computers, doing seemingly useless art experiments, felt like an invasion, as if I were in a place I wasn't properly supposed to be and doing things that I wasn't properly supposed to do. Whatever I was able to accomplish seemed like a coup. Yes, the experiment to graphically portray a random number formula failed, but I considered the attempt at the endeavor a success. In the end, there was a result. Something did happen. A drawing was made. Built into that drawing was the intent, the idea. That idea was to experiment with and challenge a system, or perhaps, rather, to reveal it.