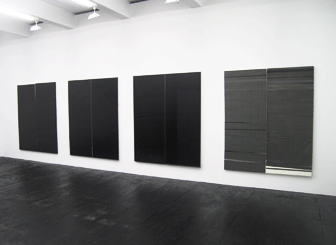 Two examples of "abject cyberculture" on view in large Chelsea galleries: Wade Guyton's "black paintings" a la Stella or Reinhart made with industrial-sized EPSON printers with clogged print heads (at Friedrich Petzel) and Thomas Ruff's gigantic "bad jpeg" photos of idyllic landscapes and manmade disasters, where "bicubic mush" resulting from saving images too many times creates a zillion Mondrians when viewed up close (at David Zwirner). Both shows shined and one wishes these dealers the best marketing this type of work to a collector class that values the "human hand" over everything.
It has to be said, though, that the copious cash necessary to produce both exhibits somewhat negates their would-be Arte Povera aesthetic. In addition to the untold EPSON cartridges expended on Guyton's show (the gallery put an image of the ink containers on the exhibition mailer in a "truth to materials" gesture), the artist carpeted the entire floor of the oversized warehouse space in wall-to-wall cheap plywood, painted austere, semi-glossy black. It's hard to convey without seeing it how much wood this is, but it's a decent sized shantytown or Broadway set's worth, at least. Concentrating on the paintings is difficult because you're constantly thinking about what's underfoot--an arbitrary, temporary surface trying too hard to "neutralize the white cube." It can't be done at Petzel, sorry.
Similarly, one does not want to contemplate the printing bill for the Ruff show--25 or 30 museum scale photos, flawlessly rendered and framed, their purpose to bowl you over with the sheer craft and tastefulness of their production so that you don't even remember that the subject is consumer technology (Photoshop) that anyone could mess with.